Critics
At "The Movie Buff," our reviewers try to be fair but aren't afraid to tell it like it is. Our reviewers have one thing in common – they are all movie lovers with a passion for discovering not only blockbusters, but those hidden gems which you might have forgot existed. Patronizing movie theatres, video stores, Netflix  Redbox, and even watching edited t.v. movies, our team will look anywhere to bring readers reviews.
Below are some of our reviewing philosophies and styles each critic brings to the table:
---

Mark is a lover of films and everything to do with them. He studies films for their impact while paying attention to several general areas. Not fixated solely on critical elements such as dialogue, special effects, or a film's technical aspects, he focuses more on performances of key actors, plot, and the overall feeling a film imparts. He studies a film's aim, its intentions, and how it measures up to others of its type.
Mark started "The Movie Buff" in November 2011, and has since written over 150 reviews for the site. Favorite genres include comedy, drama, and horror, but he also has an affinity for independent and foreign films. His motto: "Leave no stone unturned for good movies!"
In addition to "The Movie Buff," Mark can be found writing for the literary-themed website "Bohemian Bonfire" with co-founder Matt DeCristo, or frequenting local coffee shops for the perfect Cup of Joe.
Follow Mark @The_Movie_Buff on twitter for the latest site news!
---

What can we say about Matt? He loves movies, pure and simple. Not long ago he coined what has become a "Buff" motto –"You watch a movie, it gets reviewed. Simple." Matt reviews a wide-breadth of movies – from romantic comedies, to action/adventure, to horror and drama – and approaches reviews with the philosophy of their enjoyability to the casual film viewer. He asks such questions, as "Is it fun?" "Does the plot have holes?" and "Would you watch it again?"
Matt started as a contributing writer on "The Movie Buff" and has quickly became an irreplaceable part of the team. He has written over 120 reviews for the site. Matt writes satire for the sports-themed "Bronx Goblin", and runs the artsy site "Bohemian Bonfire."
A published writer, Matt has completed a collection of short stories titled "Twelve til dawn" as well as the comical book "Idiots are Everywhere." He has just completed his debut novel "Deadly Crossings"  –  available for sale at Amazon.
Matt has a running list of his top twenty favorite movies, though easily cites "Lock Stock & Two Smoking Barrels" as his all time fave.
---

Kyle is a resident of Upstate New York, a fan of the Dallas Cowboys, and the music of Steven Wilson and Opeth. Some of his favorite movies include anything by Wes Anderson and Anime, including the heartbreaking "Grave of the Fireflies." He joins us as an avid movie lover and critic.
Kyle is also a member of support groups for brain tumors, and has been courageously fighting his own brain tumor for 7 years.
Look for more from Kyle as "The Movie Buff" enters 2016! You can also follow Kyle at @Vilelabyrinth on Twitter.
---

Daniel is a lover of all things cinema, and a new addition to The Movie Buff. When looking at movies, he looks at the cast, the characters, how well a movie executes the genre, the plot, and, of course, his level of personal enjoyment. Daniel also tries to take into account how well others might like a film, and tries to be fair to a movie's audience, even if a particular film isn't his cup of tea.
Daniel is currently working on consistent grading, but typically the more he enjoys a film (or the better a movie is, all around), the higher the grade. He tries to be as objective as possible, but if he loves or hates a film, you" be able to read the emotion in his writing.
In addition to writing for "The Movie Buff," Daniel has been writing theatrical reviews for his own blog at "Daniel's Film Reviews" for more than a year.
---

Paul lives in Galway, Ireland and studies Film at the National University of Ireland, Galway. He is a lover of every type of film from Kurosawa to Tarantino and even the occasional Michael Bay movie. Paul believes that every film is innocent until proven guilty. Never judge a book by its cover and never judge a film on its trailer.
You can find Paul on twitter @paul_oconnor where he talks about movies, tv, anime, wrestling and just general goings on in the world.
_________________________________________________________________________
---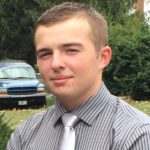 Luke is a passionate young writer who loves film not only for its entertainment value, but because it acts to him as a transport into vast new worlds.  Described by many as an old soul, his musical interests lie mainly in the hands of the Fab Four, and his preference for movies does not sit in one decade alone. Simply put, his favorite type of film is a good one. You can find the complete anthology of Luke's work at his website Dr. Filmlove, where his reviews range from "Taxi Driver" to "Jackass."
Luke is eagerly anticipating a reunion between Woody Allen and Diane Keaton, as well as Robert De Niro and Martin Scorsese.
Follow Luke on Twitter @DrFilmLove and @montyparker31.
---

Derek blames growing up in Connecticut, the most haunted state, for his obsession with all things dark and macabre.
Besides being a movie enthusiast, he is also a screenwriter, having written several short films and unproduced feature scripts. Besides movies, Derek has a passion for baseball and hiking.
Follow Derek on Facebook at https://www.facebook.com/derek.hutchins.121