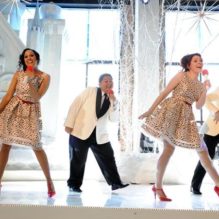 Holiday movies are par for the course this time of year. Interwoven between Christmas classics such as "It's a Wonderful Life," and cartoon stand-bys like "Frosty the Snowman," and "Rudolph the Red-Nosed Reindeer," these made-for-tv adventures, while often pedestrian, can offer a decent amount of entertainment for those looking to get into the spirit. In this vein, the recently-aired ABC original "The Mistle-Tones" offers holiday cheer for those who can get through some awkward plotting and cheesy musical numbers.
The movie stars Tia Mowry ("Sister Sister") and Tori Spelling ("Beverly Hills 90210") as competing songstresses who square off for the right to lead a local mall's "Deck the Mall" festival. Spelling's Marci is a nasty and almost-vicious Prima Donna who's singing group, "The Snow Belles," has always hosted the event, where Mowry's Holly, who has a sweet voice and ambition, wishes to join "The Snow Belles" but is frozen out by Marci, who thinks she's a 'diva.' Thus sets the stage for a showdown set in motion by Holly almost accidentally, but which pits her newly-formed group "The Mistle-Tones" against Marci and the long-established "Belles" in front of a packed mall audience.
From a holiday movie standpoint, "The Mistle-Tones" is an enjoyable endeavor, if for no other reason than it admits upfront what it is – a musical. Mowry, who has a better singing voice than I would have guessed off the cuff, does a fairly competent job leading her holiday group, admirable in light of the fact that we haven't seen much of her since "Sister Sister" (apart from movies like "The Hot Chick," -also starring Anna Faris,- but let's be honest, does anyone ever watch a film like this for any other reason than to watch Rob Schneider act goofy?).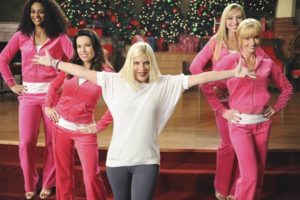 Other members of her musical group are portrayed by actors I haven't seen before, but do a decent job filling in the rest of the group, and setting the stage for a side plot in an unnamed office that produces an unnamed product. Here the movie gets a bit goofy, especially with the portrayal of the hard-nosed/by the numbers boss Nick (Jonathan Patrick Moore, who's starred in a number of t.v. movies), who micromanages every aspect of the office, and expects employees to work their hardest up to Christmas day, their only reward a lame holiday party held in the office. Human Resource assistant Bernie (Meghan Kathleen Duffy) adds humor to this, stating that having this year's party on-site should only lead to a 9% decline in office morale. The movie is a musical, yet also desperately wants to be "Office Space," not often knowing which one to pick.
Practicing Christmas carols at the office after hours, Holly gets her big break when, at a bar nursing a bad day, she discovers the pub's reigning Karaoke King is none other than her stick-in-the-mud boss Nick, who offers to train the group in the art of stage presence after Holly videotapes his performance and threatens to release it to the office if he doesn't comply. Of course, it's only a matter of time before Nick ends up joining the group, letting go of his all-business persona and getting into the holiday spirit.
The fun of "The Mistle-Tones" comes from its flat-out predictability. Several romances peek their head above ground, and you just know that by the end of the movie they will blossom into full-blown love affairs. This shouldn't be considered a detriment, however. Often movies try to be too clever, trying to sidestep audiences with twists and cleverness better left out; "The Mistle-Tones" is a feel-good holiday movie and never, for even a second, steps out of this theme in an attempt to be more original.
The singing performances are passable in their own right, though they will mostly please fans of musicals or those who can't get enough of the Christmas season. As Holly's showdown at the end gets out of control (first meant to give her a chance to fulfill her dream of singing as her mother did, it leads to 20+ bands vying for the spot against "The Snow Belles"), audiences are 'treated' to a host of music acts – from competitive school girls, to rappers, to a 'Chippendales'-like boy band ensemble – that often tests audience's ability to sit through the cheese.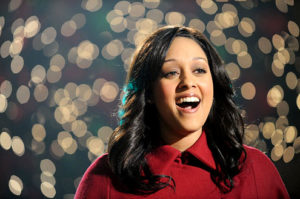 Where the movie fails pretty majorly is the anti-climatic showdown between "The Mistle-Tones" and "The Snow Belles." The whole movie builds up to this, yet certain predictable suspense gimmicks (such as workaholic Nick not showing up for the performance and an over-the-top entrance by Marci) take away from the key scene that the whole movie was leading up to. As a result, I found the other performances before "The Mistle-Tones" more entertaining than the main act, which was both disappointing and a bit irritating. Additionally, "The Snow Belles," who absolutely steal the show, takes the thunder from the "Tones," leaving audiences feeling their investment in this underdog group not only doesn't pay off, but was left completely out in the cold.
However, there are some positives, and the movie finds a sweet, if predictable way to come to a close, including one more musical number and a heart to heart between Holly and Nick that, while you can see coming from a mile away, is no less satisfying for those looking for a happy ending.
"The Mistle-Tones" has its high points and its low ones. Should you watch it? If you like musicals, or holiday specials, you probably should. If plot, acting, and believably are what you're looking for in a movie, you might want to spend your time elsewhere. The movie is a bit overlong even at 90 mins, and doesn't seem as smooth and seamless as it could have been for a t.v. movie. On the plus side, however, it features warmth, humor, and holiday fun, not to mention a few memorable scenes with the affable Reginald VelJohnson of "Family Matters" fame, which is always a plus.
At the end of the day, "The Mistle-Tones" is no "A Christmas Carol" (though Spelling does act like quite the Scrooge), but might just entertain if you're looking for an original holiday movie. If you happen to catch it on t.v. you might as well watch it – it is Christmas after all. Just know what you're getting yourself into.
– by Mark Ziobro