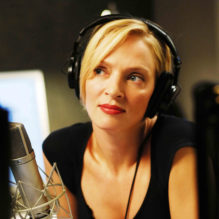 There are a lot of girl power type movies out there, but its our turn to flip the tables in 2008's "The Accidental Husband." Directed by Griffin Dunne, "The Accidental Husband" offers a simple and predictable plot that's well acted and well crafted for a better than average effort and a good comedy film.
The backdrop is dating in Manhattan (where else) and Uma Thurman plays Dr. Emma Lloyd; an author and self proclaimed love expert who hosts a call-in radio show that focuses on dating. Emma's pessimistic nature reveals she's a typical woman of the present day; no man is good enough and she regularly implores her female callers to find and focus on minuscule faults and ultimately ditch their perfectly fine relationships to hold out hope of meeting someone that could be even better. "Don't settle for a boyfriend." She advises her listeners. "Demand a manfriend."
When one particular caller ends her engagement with New York City Fireman Patrick Sullivan (Jeffrey Dean Morgan), he decides to get his revenge on Emma with a scheme concocted at giving the doctor a taste of her own medicine.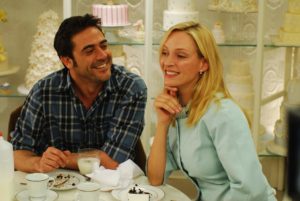 "The Accidental Husband" does suffer a bit with sloppy editing, where it seems certain scenes that may provide deeper explanations were trimmed a bit too much, but its nothing so bad as to hinder the movie. There are multiple LOL moments, and Uma Thurman and Jeffrey Dean Morgan work great together.
"Something very unfortunate has happened and it could make a mess of my life." She informs him upon their first meet, after he has begun his revenge plot. "I'm sorry to hear that." He coyly replies. The pair succeed in an opposites attract sort of way. Emma is a hoity toity sort and Patrick is a blue collar everyman.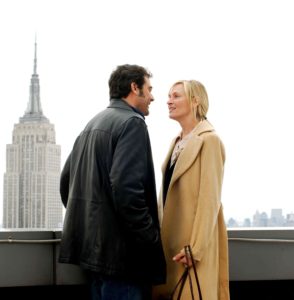 Not to be outdone is Colin Firth in the role of Richard, Emma's smarmy fiance. Firth seems to excel in this type of role; the seemingly perfect dream-guy that falls short under the surface of flawless bone structure and exceptional hair. Richard is a bit different than most "current boyfriend" type roles in that he's not a devilish character or a cheater, he's simply caught in the middle of Patrick's plot to exact comeuppance on Emma.
The cast is filled out with other comical actors, such as Ajay Naidu (Samir in the comedy classic "Office Space") and Nick Sandow as Patrick's fire crew buddy. The Bronx born Sandow is a prefect casting choice as a typical NY firefighter and offers several humorous moments, playing off perfectly with Patrick Dean Morgan.
My biggest regret is that "The Accidental Husband" doesn't take place at Christmas time. The romantic comedy story teamed with the setting of New York City would have made for a perfect holiday treat, and a definite replay type of movie.
"The Accidental Husband" is a rom-com, plain and simple. Its a tale that has been told countless times in the past and will continue to be told many more times in the future. Its got good actors and good jokes, and though anything but original, is a fin movie to watch.
by – Matt Christopher