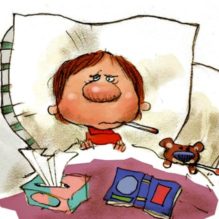 We're languishing in the middle of the worst flu season in decades; surrounded by sub-zero temperatures and the general malaise of a nasty and unforgiving winter. I myself have been ailing for a month, but as always, movies have helped get me through.
While NyQuil and tissues and Gatorade may be useful remedies at battling unseen viruses, no day on the couch is complete without a handful of Sick Day Movies to help get you suffer in peace.
Not just any film can be selected however. A certain set of rules should apply.
It should be something simple. Nothing too dramatic or action packed. Think light humor, romantic comedy type stories with little thought and brain expenditures needed to get through. "Fargo" is a personal favorite. It offers laughs and no matter how bad the winter is where you live, you'll doubtless be grateful you don't reside in Fargo.
Go for a movie you've seen many times before. That way, your mind can rest, and isn't needed for concentration. And if you doze off and miss half an hour, you can wake up and no exactly whats going on. "
Ferris Bueller's Day Off
" is a solid option, and is one of the perfect plots to mirror.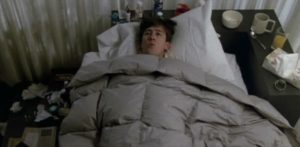 Last but not least, the perfect Sick Day Movie should be something that takes you back to your childhood. I saw "
Kindergarten Cop
"  in the mall theater with my mom in 1990, and once I got it on tape I watched it on an endless loop as a kid. Seeing it today literally takes me back to being a child, home from school sick, no responsibility other than getting well, and my mom acting as the perfect nurse and taking care of me.
Sick Day Movies should always bring a smile to your face, despite the way you may be feeling when watching. Remember, laughter is the best medicine.
by – Matt DeCristo