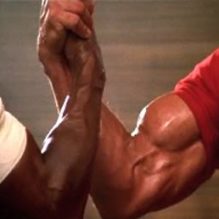 Welcome to Man Movie May! It's time for our yearly celebration of the action hero, that time for reviews of your favorite actioners, new and old.
This year, we have a lot of tough guy movie reviews in store for you, starting off the month with a review of the 1997 "The Jackal." Look for more to follow this one, as well as some action hero profiles to come your way, such as Clint Eastwood and Arnold Schawrzenegger.
This year we are featuring a contest…giving away an Incredible Hulk boogey board from the 2003 movie starring Eric Bana and Jennifer Connelly.
To win the board, all you have to do is fill out the answers to a simple, 10-question quiz, presented below. Email answers to Themoviebuff79@gmail.com or simple submit the answers through the "Contact us" link provided here.
The contest will run from May 1st – 31st. Winner will be announced on June 5th. Only one winner. Will be picked from contestant with the highest number of right answers. In the event of a tie, a random drawing of those with the highest number of correct answers will decide.
Please leave your name and email address when you submit your answers so we can contact you if you are the winner.
Thanks and enjoy the quiz!
Man Movie Quiz
1. Who plays Dr. Emment Brown in all 3 "Back to the Future" movies?
2. Which item in Batman's arsenal does Jervis Tech covert the most?
3. Who is the only James Bond under 6 feet tall?
4. What is the Bride's codename in "Kill Bill?"
5. Who speaks the first words in "The Hobbit: an Unexpected Journey?"
6. What colour is Luke Skywalker's lightsaber in Return of the Jedi?"
7. What was Uncle Ben's killer's tattoo in "Spider-Man?"
8. What is Indiana Jones real name?
9. Who did Wyonna Ryder play in "Alien Resurrection."
10. Named the big bad in "Big Trouble in Little China."
**Looking forward to seeing your answers. Any questions, let us know! Begin!