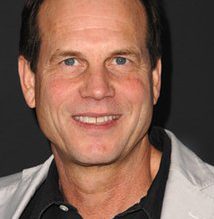 Years ago, my brother and his friend introduced me to "Frailty," a horror film centered around gods and demons, which I found to be one of the most unique and scary films I had seen in some time. The film starred Matthew McConaughey and Bill Paxton. I would later learn that the film was also directed by Paxton himself. The film was both risky and elemental, and pushed the envelope where perhaps other directors could not. Wrote critic Roger Ebert about Paxton here, "Perhaps only a first-time director, an actor who does not depend on directing for his next job, would have had the nerve to make this movie. It is uncompromised. It follows its logic right down into hell."
I was saddened to learn of the passing of Bill Paxton this morning, who died as a result of complications from surgery on February 25th. With Paxton's passing, we are reminded that while 2016 had claimed a large number of iconic celebrities, a nearly full two months of 2017 had passed without such as loss. Paxton's death will hit us hard; possibly harder as he was so young, only 61, and had much more left in his heart to give.
Paxton leaves behind a wife, Louise Newbury, and two children.
The internet today was alive with tributes to Paxton, some, like actor Rob Lowe, calling Paxton a 'Renaissance Man' and one of the 'finest actors in the business.' Others touched upon not just Paxton the actor, but Paxton the director as well. "RIP Bill Paxton. Great in everything, was the highlight of every movie he was in," Screenwriter Bryan Lynch tweeted. "Underrated director too." (Aside from "Frailty," Paxton also directed the 2005 film "The Greatest Game Ever Played").
According to IMDb (Internet Movie Database), Paxton has over 90 acting credits to his name, an impressive number, all the more so because so many of those performances were iconic.
Paxton was the kind of actor, who, with his everyday charm and everyman likability, was truly pleasing to watch in everything he was in. Perhaps some of his more well-known roles, such as playing Brock Lovett in James Cameron's "Titanic," worked solely because of Paxton's versatility and screen presence. It's Paxton, not the ship's crew, who brings us back to Titanic in this film; and as he muses towards the film's end that through all the years of treasure hunting within the ship, he "never got it" and "never let it in," we understand what he means. It's emotion like that that makes a picture; Cameron painted the landscape, but Paxton showed us what we felt.
Said Matt Christopher of The Movie Buff of Paxton, "His performance as Brock Lovett in "Titanic" exemplifies his unique ability at being an unheralded star. Paxton could take any role and carry it with a passion and professionalism unlike any other."
Paxton's other roles were varied and eclectic. There's of course his pleasing performance as a storm chaser in the 1996 film "Twister" alongside Helen Hunt that made tornado chasing fun and relatable. There are fun and deft portrayals Paxton put forth in films like "Commando" and "Aliens" that show some of his versatility. In one of my favorite actioners, "True Lies" (1994), Paxton plays not a everyman or tough guy, but a weasily used car salesman. A scene on a bridge, dealing with intimidation between he, Arnold Schawrzenegger, and Tom Arnold is among the funniest scenes in action.
Paxton also stars in one of my favorite films, a dramatic, eerie, and macabre filled film called "A Simple Plan," a story of greed, small towns, and the human condition which is executed perfectly, shot for shot, Paxton leading a stellar cast that would also include Billy Bob Thorton. This film wouldn't be the first time Paxton wouldn't play the good guy, as he appeared as a paparazzi-style and morally unscrupulous camera-man-for-hire in the great "Nightcrawler" alongside actor Jake Gyllenhaal. Paxton liked action films, and you can tell he really liked the portrayals he put forth. He appeared in many of these, such as 2000's "Vertical Limit" alongside Chris O'Donnell, and "U-571," again alongside Matthew McConaughey.
Paxton was no stranger to success, and was recognized as such with a number of awards and accolades through his long career. Among these, Paxton won the 'Filmmakers Showcase Award' from the Academy of Science Fiction, Fantasy & Horror Films, USA, who quoted: "Bill Paxton is one of the most respected actors working today. Following a long string of successful performances, Bill has stepped behind the camera and proven his skill as a director. His directorial debut, "Frailty" (2001), showed a keen sense of style and a powerful grasp of storytelling which puts him in the ranks of top directors working today. We feel compelled to acknowledge this masterful work."
Paxton also won a 'Texas Filmmaker Award' at the Deep Ellum Film Festival in 2001. In 1996 he took home an award for 'Outstanding Performance by a Cast' from the Screen Actors Guild Award, for his performance on "Apollo 13," whom he shared with Kevin Bacon, Tom Hanks, Ed Harris, Kathleen Quinlan, and Gary Sinise. Paxton also won a 'Bronze Wrangler' award in 2013 from the Western Heritage Award for his work on the documentary "Hatfields & McCoys," which he once again shared with other actors and filmmakers such as Leslie Greif (executive producer) and Kevin Costner.
Aside from the Hollywood spotlight, Paxton had a humble upbringing, born in Fort Worth, TX in 1955. Paxton actually had an interesting early moment in the spotlight, in 1963, where a photo of him as a child raised above a crowd as JFK went to visit Dallas on November 22, 1963 surfaced. Paxton was also a huge fan of Clint Eastwood, once claiming him as a major mentor of his, though the two had never met.
Paxton had a way of having this effect on people, from his co-stars and others in the business, and in industries that had nothing to do with Hollywood. Said actor Arnold Schwarzenegger about Paxton, "Bill Paxton could play any role, but he was best at being Bill – a great human being with a huge heart." And today, a group of storm chasers across the midwest are coordinating their GPS check ins to form the letters "BP" on the Oklahoma/Kansas map in honor of Paxton. (Read the story here).
As with actor Alan Rickman, who died last year, Bill Paxton's swan song has not yet sung, as a feature he starred in, "The Circle" is currently in post production. It will give fans one last chance to see this gifted actor at work, though many will not so soon forget his dynamism and talents. For a man with such eclecticism, Paxton's passing will not be one forgotten soon, remembered, without doubt, during airings of his many films, and the emptiness of roles ahead that Paxton could have played but will no longer be apart. His death is a hollow loss for his friends, family, and the industry as a whole. Rest in peace, Bill.
– by Mark Ziobro