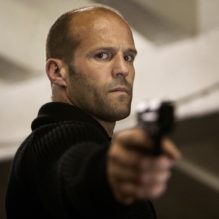 With a body chiseled so flawlessly it looks as though it came from a slab of granite, and a constant five-o'clock-shadow splattered across his face and scalp, Jason Statham is the definition of ultimate manly man.The body comes as a result of an early life interest in martial arts and competitive diving, the latter of which saw him a member of Britain's National Diving Squad for over a decade. Toss in the Shirebrook-born Bond-like accent and the action movie star has the rare ability to seem at ease as a rugged tough, shooting guns and punching out hoods, but not out of placing mugging on the cover of GQ Magazine.  
Statham has starred in Man Movies such as "The Transporter," The Expendables," "Crank," and "Fast & Furious." My first introduction came in what would be Statham's first movie (and my all time favorite film), 1998's "Lock, Stock and Two Smoking Barrels" in which his role as a manly man is somewhat subdued – playing with an ensemble cast and relying on his humor to carry him in the face of British criminals and ne'er do wells.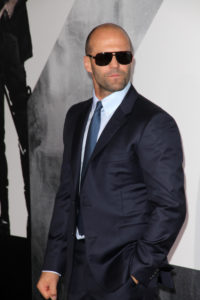 His life has been one of mystery and intrigue to say the very least. Statham was working as a male model before his debut performance in "Barrels," but ironically enough was supplementing his income at the time by fencing stolen goods (a trait displayed in the opening scene of the movie ) on the streets of London.
And what happens when a tough guy like Statham attends a party at the legendary Playboy Mansion? He gets thrown out of the party, escorted by a handful of security guards like a scene mirroring one of his movies. And of course, Statham performs his own stunts, coming close to death during a prop malfunction on the set of "The Expendables 3." Urban Legend? Fact? Myth? Who cares.
Statham hasn't (and won't) win any Academy Awards, and that's perfectly okay. When you date supermodels like Kelly Brook and Rosie Huntington-Whitely, lend your services to the production of music videos, and provide voice over roles in video games, you're okay with just being cool.
by – Matt Christopher