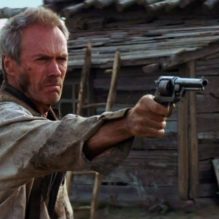 Over a career spanning more than 6 decades, Clint Eastwood has made a name for himself in practically all the branches of the entertainment industry. Starting off in television on the popular western series, "Rawhide," he became a household name as an actor when he joined Sergio Leone to make the infamous Dollars trilogy ("A Fistful of Dollars," "For A Few Dollars More," "The Good, The Bad and The Ugly").
Eastwood returned to America a star, and after the success of his collaborations with Leone, he starred in a long series of Hollywood westerns including "Hang 'Em High," "Coogan's Bluff," and "Two Mules for Sister Sara." During this time, he also dabbled in the war genre with works such as "Where Eagles Dare," "Kelly's Heroes," and "The Beguiled."
But it wasn't until 1971 where audiences found out that Clint had more under his sleeve than just the Cowboy persona when he released the frightening thriller, "Play Misty for Me," his directorial debut. He starred alongside Jessica Walter in the movie – he as a male disc jockey, and her as his biggest fan, as a one-night stand turns deadly when jealousy settles in. An impressive debut, Roger Ebert gave the film four stars, pointing out how much the new director must have learned from his predecessors and mentors, Leone included.
Immediately following that success, Eastwood starred in a little cop flick called "Dirty Harry." The film exploded and Eastwood had once again immortalized himself in a persona, as people are still saying "do you feel lucky, punk" 45 years later.
By this time, Clint had established himself as an anti-hero type of actor, and continued to play such characters for the rest of his career. During his time playing Harry Callahan, Eastwood starred and directed (*) in movies like "High Plains Drifter," * "Thunderbolt and Lightfoot," and "The Outlaw Josey Wales," * never straying too far from his Western origins.
With that said, Eastwood wasn't as consistent playing the Cowboy role as he was early in his career. With films like "Heartbreak Ridge," "Honkytonk Man," and "Escape from Alcatraz," he proved himself worthy of handling any kind of macho role. Luckily for Eastwood, this was a skill that turned out to be worthwhile.  Whereas many actors try to squeeze as much money out of a role as they can, Eastwood signed off from the western genre with his masterpiece, "Unforgiven."  Alongside Morgan Freeman, Gene Hackman, and Richard Harris, Eastwood's tale follows a pair of retired gunslingers as they go out to right a wrong when two cowboys cut up an innocent prostitute.
The film gave Eastwood his first three Oscar nominations, including one for Best Actor. He ended up leaving the ceremony with two golden figures: Best Picture and Best Director. And with that, Clint could hang up his spurs in both peace and triumph.
Eastwood bounced back from that success with three great, but less recognized films: "A Perfect World," "In the Line of Fire," and "The Bridges of Madison County." And after a bit of a dry spout following those, he released "Million Dollar Baby", where he would once again earn Oscar gold for Best Picture. Clint's appearances as an actor were slowing down; there was a four-year gap between the boxing picture and his great "Gran Torino;" but he never ceased directing, releasing the World War II films, "Flags of Our Fathers" and "Letters from Iwo Jima" in that time period. Eastwood's last role came in the 2012 film, "Trouble with the Curve," and having not performed in five years, it is uncertain when he will graze the screen again.
With that said, Eastwood has continued adding to his directorial resume with successes including "Invictus," "American Sniper," and most recently, "Sully," proving time and time again that even at the remarkable age of 86, Clint's still got it.
– by Luke Parker