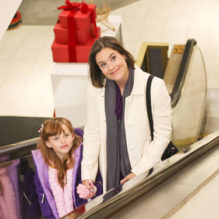 "Christmas in the City" is one of those feel good holiday movies you'll hate yourself just a little for watching, and hate yourself a bit more for actually liking.Released in 2013 on the Lifetime Chanel, "Christmas in the City" stars Ashley Williams as Wendy Carroll, a single mother who is struggling to keep her family's small-town candy store afloat, and is forced to take a seasonal job at a giant department store in the middle of the big city.
"It's time to start living your life." Wendy's mother advises before she leaves for the city, setting up the budding romantic connection she will eventually have with Tom (Jon Prescott) the son and heir of the giant Wolman's Department Store in which she has secures employment.
What works best is the natural way with which Ashley Williams delivers the performance of Wendy. Her infectious smile and bubbly personality come through with such effortless ease, you struggle to accept that she's just acting a part. The rapport between Wendy and six-year-old daughter Gracie (Kylie Noelle Price) is a joy to watch, particularly the nightly ritual of mom tucking daughter into bed. "Say goodnight, Gracie." Wendy says with a smile on her face. "Goodnight, Gracie." Daughter gleefully replies.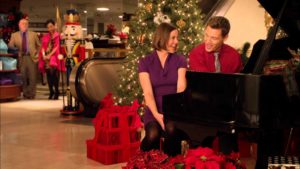 Laughs are plenty as small town Wendy ventures to the big unnamed city (think cross between New York and Los Angeles). She and Gracie immediately encounter a hobo, a stereotypical rude cab driver, and a man dressed in a dirty Santa Claus outfit holding a sign that simply reads 'Need Beer' all amidst the backdrop of giant skyscrapers that couldn't be further from the quaintness of her home town.
The romantic angel is cute, with awkward conversations between Wendy and Tom that left me slightly uncomfortable as I watched, and a great scene that depicts the pair singing Christmas songs together at the piano, with tough single mom Wendy apprehensive though excited at the thought of someone new coming into her life.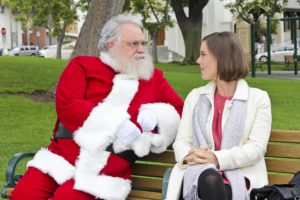 The antagonist comes in the form of Teanna Musk, played by R&B/Hip-Hop diva Ashanti. Teanna is a self-proclaimed marketing genius, who is brought in to Wolman's to help the financially struggling store. Teanna of course hates all things to do with Christmas, which obviously rubs the perky and fun-loving Wendy the wrong way.
Ashanti lends her musical talents to a great modern score, while doing a very effective job on screen as well, strutting around the store in high end shoes, sacking daycare employees, decorations, and even Santa himself, and sternly bossing around her lackey Bruno – who is the perfect representation of the hysterical and incompetent servant. "Mommy, is she a witch?" Gracie asks, loud enough for all to hear. Why out of the mouths of babes.
"Christmas in the City" is an easy movie to watch. It flows smoothly and keeps you laughing throughout. It's a perfect way to wind down the stressful rigors of Black Friday.
by – Matt DeCristo