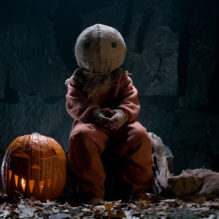 It's been proclaimed as one of the scariest horror movies you will find. Once critic went so far as to compare it to the original "Halloween." Neither proclamation could be further from the truth, but in fairness, filmmaker Michael Doughtery and his cult film "Trick 'r Treat" aren't trying to terrify or land themselves in the prestigious company of all time great horror films – they simply want to make their own mark.
Based on animations by Doughtery (of which are displayed on the DVD extras and worth the watch – he's incredibly talented), "Trick 'r Treat" ties in four independent short stories into one night of mayhem in Warren Valley, Ohio.
The visuals put you in the spirit from the onset, with sites and sounds reminiscent of Tim Burton's style. It's Halloween night, and trick-or-treaters fill the streets, decorations are on every house, and the annual town Halloween festival is marching up and down main street with all the envy one such event would bring to fans of the holiday.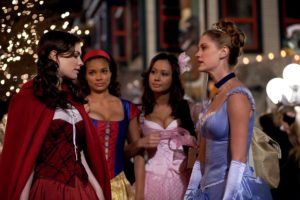 One of the characters describes Halloween perfectly as "the one night that the dead and all sorts of others things roam free, and pay us a visit." The four tales depict a high school principal (Dylan Baker) living a double life as a ravenous serial killer, a harem of Halloween hotties (led by Anna Paquin and Lauren Lee Smith) flaunting themselves through the town, and a gaggle of students recounting a harrowing horrifying legend.
All the while a creepy and ominous ghoulish character (called Sam) is roaming about and bringing together all the stories. The character of Sam is in fact the animation that Michael Doughtery first created that would eventually lead to the production of the full length movie.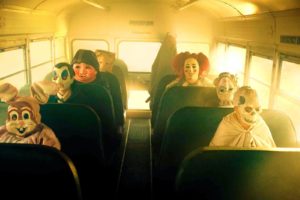 The visuals and animations of Doughtery are chilling, but the movie itself boasts more comical tones than scary ones. While there are certainly scary parts – one scene depicting a school bus full of mentally challenged kids in full Halloween attire is particularly grisly – the tones for the majority are more spoof than scare.
Despite that, the movie flows quickly as we are introduced to the different groups and watch as they all tie in at various points. I loved that the movie takes place in a single night – and on Halloween – what could be better than that?
"Trick 'r Treat" has become a cult favorite and while it's not "The Shining" or "Nightmare on Elm Street" its a fun and festive movie that will definitely put you in the Halloween mood.
by – Matt DeCristo