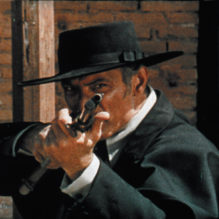 With the experience of one Western under his gun belt, Sergio Leone commands his follow up to "A Fistful of Dollars" with a greater sense of purpose and style, building upon his previous film's extremities in order to expand upon and present his vision of the west more effectually. And though it is more cinematically pleasing and original than its predecessor – "A Fistful of Dollars" was lent its story by the Japanese classic, "Yojimbo" – "For A Few Dollars More" is still the narratively inferior of the pair.
The film sees the return of Clint Eastwood's nameless, cigar-chewing vigilante, and though Eastwood receives top billing on all the posters, his character plays secondary to Lee Van Cleef's slick, pipe-puffing, vengeful Colonel Douglas Mortimer. The two are cast as competing bounty hunters, finding revenue through death in a land where life has no value. After participating in a race where either was always one step ahead of the other, the two decide to join efforts in their pursuit of the insensible desperado, Indio (Gian Maria Volontè).
"For A Few Dollars More" plays out like many Westerns of the era did, with a loose story full of pulse-pounding and face-pounding scenes – a man wearing a black hat lights a match on a tough guy's suspenders; two gunmen bet their lives on a hand of poker, etc. The film's plot is a series of such situations, plagiarized from countless other Westerns, but drawn out on a much bloodier, and histrionic scale. They go on forever.
Eastwood, as The Man With No Name – called Monco in the film – is as enigmatic and one-dimensional as he was in "A Fistful of Dollars." But that's ok, because his character is hardly involved emotionally in the plot. Mortimer, on the other hand, has motive behind his hunt, and as a result, supplies the audience with the emotional calling avoided by the film's headliner.
With that said, the Colonel is no wuss. Armed with a heavy arsenal of long-barreled revolvers and rifles, the keen-eyed old man is a force to be reckoned with, even to our formidable, quick-handed hero. Together, they are quite the duo. A hat-based battle of one-upmanship makes for one of the film's best scenes.
The star, Eastwood, is not the only one returning from "A Fistful of Dollars." Gian Maria Volontè played Ramon, the first film's antagonist, and like Leone, continues to learn from his experience. This time, Volontè personifies a disturbed villain in El Indio, rather than a purely opportunistic one, and makes the transition smoothly, despite the surely difficult task of performing alongside American, English-speaking actors.
Clint Eastwood would go on to create Westerns of his own, never forgetting to acknowledge Leone, as well as later collaborator Don Siegel as his mentors. Watching "For A Few Dollars More" in succession with "A Fistful of Dollars," it is nearly impossible not to notice the lessons Leone has taken away from himself, serving as his own mentor. The director recycles many of the innovative action shots that made "Fistful" so entertaining, while also finding new ways to clasp his audience's attention – gunslingers shoot cigars out of mouths, make spurs spin, and send hats flying. It's preposterous. But it's precisely what works.
Leone also brings back Ennio Morricone, who splits the arrow with his memorable score, arranging another baroque soundtrack to accommodate the immorality of the west and its occupants.
It must be mentioned again that this film does not have the perfect narrative "Fistful" 'borrowed' from "Yojimbo." But like one of those compilation books with several separate stories, "For A Few Dollars More" works because each unique scene is as exceptional as the next. A majority of Leone's subsequent films followed this format. The scenes are so over the top that they string together perfectly, and are able to replace a standard tale. These sequences may be clichés now, hell, they were clichés then, but Leone's got all the tools to make it fresh, and keep it fresh.
– by Luke Parker