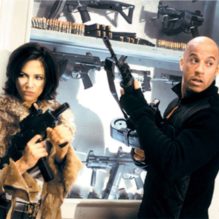 Building off of the momentum of then relative newcomer Vin Diesel's "The Fast and the Furious," Rob Cohen's "xXx" attempts to blend the genres of extreme sports with the classic Bond tale. Surprisingly, the effort works. With just the right amount of 'fish out of water' element, and a high-octane special effects package, "xXx" is both entertaining and exciting, even if it does get a little silly at times. It's produced for action fans, and makes no apologies for it's many homages to this genre. 
xXx here is Xander Cage, an extreme sports aficionado, who, with a small gang of loyal followers, tries to teach the wicked of society costly lessons. The most fruitful of these is when he steals a politician's Corvette and jumps it off a bridge before parachuting out himself, due to the politician's 'anti arts and culture' legislation. Xander is riding high, but his high is short lived. xXx is kidnapped by government agents (led by the venerable Samuel L. Jackson) and blackmailed into becoming a government secret agent.
"xXx" is actually written rather well, even if it does steal many elements of the James Bond series along the way (including the weapons geek that will outfit the hero with the tools of the trade, here named 'Shavers' and not 'Q'). His government handlers, led by the aforementioned Gibbons (L. Jackson) lead xXx to his first mission – to infiltrate a Russian spy ring who has goals of biological weaponry and anarchy as their guiding principles. They are led by a man named Yorgi (Marton Csokas), and others such as Kirill (Werner Daehn) and the beautiful Yelena, played by Asia Argento.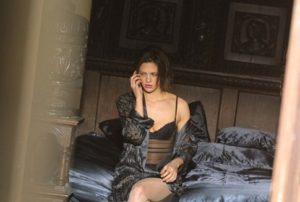 Visually, "xXx" is done well, and features pleasing action sequences and special effects. The cinematography is done by Dean Semler, who won an Oscar for 'Best Cinematography' for his 1990 work on "Dances with Wolves," and highlights the film's more exciting sequences well. These include such elaborate stunts as jumping a dirt bike across a barn which explodes mid-jump (which the film page on IMDb states had never been done before), and a dramatic sequence where xXx attempts to outrun an avalanche while snowboarding down a mountain. "xXx" is also filled with that same Bond-esque tongue-in-cheek sarcasm. "Nothing like fresh powder," xXx jokes after nearly dying in the incident.
The acting in the film is well done, even if the characters are rather cookie cutter. Vin Diesel performs as xXx, and his real asset here is not his musclebound physique or penchant for danger, but that he allows humanity and a conscience sneak through his tough veneer. It's not surprising, as Diesel has shown capable acting before, such as an unscrupulous stock broker in the 2000 film "Boiler Room," whose acting was notably better than much of the rest of the cast.
Diesel is supported by others. The most surprising here is L. Jackson, who appears less cocky and more kind than in some of his other endeavors where he acts more of an end to himself than part of the team. One scene between xXx and he, where they discuss doing the right thing while still being a spy makes for a nice camaraderie often missing from spy endeavors. The villains, such as Csokas and Daehn, fill their roles well, even if they are a bit one sided. Csokas is probably the worse offender for this, as he pontificates throughout the film, in a thick Russian accent, about anarchy and destruction and achieving 'absolute freedom.' Csokas' acting isn't bad, but the character is painted too thin for us to understand him. The rest of the villains suffer the same plight. We are to believe they are bad, and xXx is good, and are set up for specifically this reason throughout. The only deeper connection forged is between xXx and Yelena, but to say more of this is to give away too much.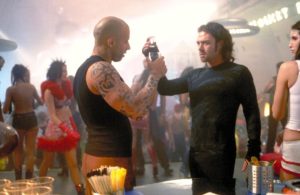 The film also suffers from some pacing issues, and clocks in just a bit too long at 2 hours and 4 minutes. And while much of the dialogue flows naturally, sometimes we get into some stilted interactions that just don't come off as believable. But suspension of disbelief is a must to enjoy "xXx;" the film isn't so much its own unique spy thriller but an homage to the genre. And it does a good job at that.
All in all, "xXx" is an enjoyable movie, even if it only stays on the surface, not delving deeper. Diesel is likable and capable throughout, and carries the film well. Those looking for special effects used liberally will enjoy its bevy of high energy sequences, and the film is shot well and ends pleasingly. If you're looking for a new take on the spy genre, you could do a lot worse than "xXx."
– by Mark Ziobro