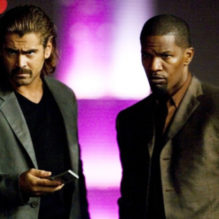 There's nothing more manly than fast cars, bikini-clad beauties, and the beach environment of South Florida. Such a picturesque landscape was captured with the classic 1980s television series "Miami Vice" that's its hard to fathom why it took 20 years to bring legendary cops Crockett and Tubbs to the big screen.
Such was the case with the 2006 Michael Mann movie "Miami Vice" but title aside, the movie fails on all fronts to capture the era or the locale of the original series. Actually, its as if Mann didn't even bother to try.
The movie opens with promise as speedboats race in and around the blue waters of Biscayne Bay, giant scrapes of the Miami skyline looming menacingly in the background. The problem is, after this opening sequence, the city of Miami itself has virtually no presence in the movie again. Gun fights, drug deals, and copious amounts of lust do occur, but could have happened just as easily anywhere; Chicago, Charlotte, or Boise Vice could have been the title.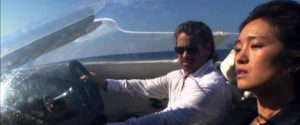 Taking the leading roles are mainstream stars Colin Farrell and Jamie Foxx – and neither does anything to make a lasting impression on the craft of acting. Farrell plays Detective James "Sonny" Crockett but unlike the legendary character and infamous womanizer that Don Johnson perfected thirty years ago, Farrell's Sonny comes off more as a creeper, with porn-like mustache and greasy hair.
Jamie Foxx has won an Academy Award, but it surely wasn't for this movie, as Foxx is flat out awful in the role of Detective Ricardo Tubbs. Unlike in the series where the character takes more of a back seat to Crockett, Foxx' Tubbs is an equal opportunity player, and just like Farrell, is an equal opportunity waste on screen. Tubbs tries to be slick but delivers unfunny and uncool lines like "That's some crazy mother* wallpaper, what is that? Jackson Pollock?" or "Let's take it to the limit one more time." This may speak more to the poor writing skills of Mann, but Foxx doesn't do anything to make himself more memorable.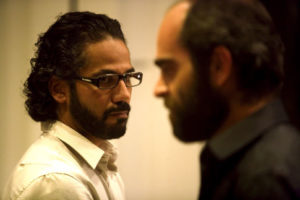 The plot is a standard cops vs crooks concept; Crockett and Tubbs are undercover agents attempting to thwart a major drug trafficking operation. There's a host of bad guys who offer some promise, like cartel boss Jose Yero (John Ortiz), drug kingpin Arcangel de Jesus Montoya (Luis Tosar) or a sect of the Aryan Brotherhood led by Coleman (Tom Towles) but each is spread so thin we don't really get a chance to hate any as a primary antagonist.
Gong Li plays a villainous femme-fatale who of course gets involved with Crockett and Naomie Harris plays fellow vice cop Trudy Joplin, the love interest of Tubbs. The number of good guys, bad guys, and drug smuggling plots quickly gets confusing.
I think where the movie ultimately fails is that it takes place in present day (2006) in lieu of the amazing backdrop of the early 80s. Video games like "Grand Theft Auto: Vice City" got it right by not only occurring with the setting of the glorious city of Miami, but also by taking place in the 80s, which includes the bold fashion and great music (the soundtrack on this picture is awful to say the least). And as stated earlier, the culture and landscape diversity of Miami is more of an afterthought, and that's another black eye on the finished product.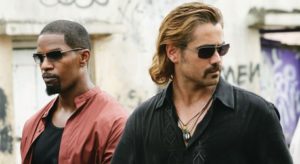 "Miami Vice" is dark in its setting and tones; it doesn't make you think of sunny South Florida at all. Its bloodshed and violence are far too serious, and lack the cartoonish hi-jinks of the show. At 2:20 its long, slow, and boring. Coupling that with bad acting and poor writing, and its just not a fun time like the TV series was.
In the end, "Miami Vice" is nothing special. Its just another movie. Skip it and dial up season 1 of the show, you'll thank yourself in the end.
by – Matt Christopher