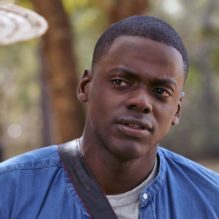 A part of what makes first time director Jordan Peele's spellbinding, intelligent, and important thriller, "Get Out," so defying is that there is a clear divide between right and wrong that is drawn out by the two colors imprinted on the screen. There's black, and there's white, there is right, and there is wrong; the director, who has certainly displayed his fair share of social commentary on his successful comedy series "Key and Peele," ensures that black is always with right, and white is always with wrong.  However, instead of making his film a direct and unattractive attack on the towering racism currently infesting our country – which I am sure would not be difficult to accomplish – Peele delicately reins his subject matter. And as a result, "Get Out" becomes a timely and risky assessment of a pressing issue that forces its audience to think about something uncomfortable and contemporary.
To be fair, Peele's innovative project clearly took inspiration from some of the films he has seen before, the most noticeable one being "Rosemary's Baby," except with a charged, racial-based twist. "Get Out's" fright-factor is vesseled mainly through that feeling when you know you don't belong somewhere; knowing that you're unwanted. Just because you are invited doesn't mean you are welcome. Our protagonist Chris (Daniel Kaluuya) suspects this long before he goes to meet his girlfriend Rose's (Allison Williams) parents, but what he doesn't know is how quickly this customary tradition will turn into a life-threatening situation.
The film opens with the couple preparing to go to home to meet her parents. Rose hasn't told them that Chris is black, which she figures won't be a big deal, but he's cagy. His TSA Agent buddy Andrew (a hilarious Lakeith Stanfield) is also skeptical about the situation, but Rose insists that her father would have voted for Obama if he was running for a third term – something he will later tell Chris and something I will go back to.
As soon as Chris and Rose arrive at her parents' house, there's something unsettling about the situation. Sure, Dean (Bradley Whitford) and Missy (Catherine Keener) Armitage seem friendly enough, they are "huggers" after all, but it feels like they're trying too hard to impress him. What's even more unnerving are the demeanors of a groundskeeper named Walter (Marcus Henderson) and a housekeeper named Georgina (Betty Gabriel), who look as if they're living on autopilot. But Chris tries to excuse their behavior – he thinks that Walter might be jealous and maybe that Georgina has an issue with Chris dating a white woman. The lurking inclusion of Rose's bizarre brother, Jeremy (Caleb Landry Jones), doesn't help either; and when Chris goes out to smoke one night, things get much, much stranger.
The film is a bit of a slow-burner. Peele builds up the suspense in the first half, challenging us to discover for ourselves what makes the Armitage's so odd and reiterating the idea that something is terribly wrong.  During this time, there is not a lot of action, but Peele does an excellent job walking across the tight rope that is in all horror films: he is able to keep his audience engaged without a cavalcade of murderous or bloody frights.
The excitement and curiosity pick up as guests arrive at the Armitage's for an annual party originating from Rose's deceased grandfather. As Chris mentions to Andrew, these people act as if they've never seen a black person before, and as they point out and marvel at his genetically-profound physical characteristics, our minds are constantly turning as to why they are so interested and intrigued by this young minority.
Then Peele just lets it all go; the final act of "Get Out" is an unpredictable and sinister ride of thrill after thrill. As a comedy writer, he impressively works his horror chops in a way that not many people could have predicted, and although some of the racial issues he has been addressing are overpowered by the action, the intensity of these final scenes are what makes the film what the audience was looking for.
The director also knows how to handle his actors too, drawing out a great leading performance by Kaluuya, and knowing exactly how he wants the Armitage's to conceal their mysterious and demonic ideas.
But most importantly, Peele does an excellent job keeping his subject front and center. "Get Out," though written by a great comedic mind, does not take a break for comedy (even with Stanfield providing a little bit of relief, many of the laughs are derived by the fact that his character is convinced that all white people want black sex slaves), and keeps us on edge and uncertain from the first shot to the last. As was aforementioned, Peele doesn't make a direct assault on racism – an action like that would surely push away audiences who prefer to not discuss or admit to such things – but he does force thought, and sometimes, that's what people need.
– by Luke Parker