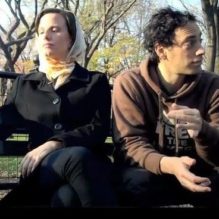 I will be released.
What families will do in times of grief to recreate even the slightest moment of bygone happiness is individual and absolute. That simple phrase above is a Bob Dylan lyric which an imprisoned Josh Fattal, one of the 'Three Hikers,' told his desperate mother with the little bit of time allotted for their conversation.  She explains to us that she subjected her two boys to Dylan's "poetry" when they were young, and they instantly attached to it; not only did that lyric have a literal vitality of irony and optimism to go with it, but for a moment, both mother and child were lifted out of their horrific separation and conjoined spirits with a memory.
Natalie Avital's political and historical documentary, "The Three Hikers," is a brutal part-dictation, part-reenactment of three friends' unfortunate misadventures and two-year-long imprisonment in Iran; and it also efficiently depicts the solitude, helplessness, confusion, and desperation of a global predicament such as this in both the international and familial sense.
Josh Fattal, Sarah Shourd, and Shane Bauer were regular people once. Three friends, they decided to spend a vacation in Northern Iraq, which was advertised as a place where an American hadn't been killed "in decades." Once there, they went hiking up in the mountains and mistakenly intruded over the Iraqi-Iranian border into Iran. Misinformed and perplexed, they were arrested and made hostages, examples of governmental dominance.
When it came to Iran's discombobulated politics at the time, perhaps July, 2009 was not the best time to plan a visit to that area: the country was on the brink of rebellion, civilians were outraged over what they thought was a rigged election, and tensions were high, especially against America once it was discovered that there were several American bases around the border which supplied weapons for revolutionary groups. So when a watchman saw three Anglo aliens walking near the border, reasonable paranoia kicked in.
What was so ironic about this unfortunate happening was that the three people Iran detained for being American spies were actually activists against the US' aggression in the Middle East. And yet, these three innocent people were unlawfully maltreated, and their rescue quickly became a global mission.
By boldly working nearly exclusively with interviews from the captives and their families, Avital effectively bottles all of the emotions an ordeal of this magnitude generates. She makes it certain her audience understands that there's always more than one fight going on as the three families come together and spark a movement of their own; and also makes it clear that the prisoners are not the only ones psychologically altered by the events. For example, the Bauer's admit that they have sensed some sudden dysfunction in their relationships as a result of all of the stress, and perhaps all of the attention given to Shane. It goes without saying that their lives will never be the same again.
"The Three Hikers" works on many of the levels other entertaining documentaries do: it takes an event that has since sizzled in attention, and makes the audience shamefully wonder, "how could I not remember this?" Though unfortunate, the two-year nightmare Bauer, Fattal, and Shourd had gone through in Iran was an important incident, if only for the collaboration demonstrated by the many countries that helped bring them back.
– by Luke Parker