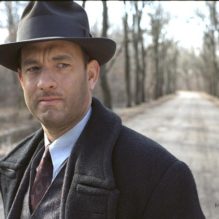 "Road to Perdition" is reminiscent of a Greek tragedy in that all of its sinners are eventually met with their insufferable fate. Shakespearian tragedies like "Macbeth," or "Romeo and Juliet" are separated from the Greeks' because, though the audience knows which characters will live and which will die, there's excitement in our confusion of how the damned players' demise will manifest itself. That excitement is not there in the Greeks', where the story is used more as a lesson than an entertainment, so for some, "Road to Perdition" will feel substantially bland.
However, I was not one of them; an eye for an eye is simply how the mob works. The victimized characters in this film are constantly reminded that "it's just business," a regulation they, up until this point, have abided by. But of course, that all changes when it's your legs that get broken and not someone else's. And that's a question that I find in the hearts of many of the best mafia movies: how do these guys always think they are the exception? Given, Mike Sullivan (Tom Hanks) has a better argument than most.
The story follows three pairs of sons and fathers, and proves that the mob life leaves no leeway for any form of ordinary love. Sullivan is an enforcer for the Chicago mob and resides in Rock Island with his wife (Jennifer Jason Leigh) and two boys. Then-newcomer Tyler Hoechlin plays his eldest son Michael Jr., who, after his brother asks what their dad does for a living, decides to find out for himself. One night, he hides in the family car, goes along for the ride, and witnesses a man get killed. The fact that it wasn't his father who did it is irrelevant.
Sullivan works for mob boss John Rooney (Paul Newman), a man of few but convincing words, whose son, Connor (Daniel Craig), a despicable man, is another member. Rooney took Sullivan in when he was an orphaned child, which sets up an emotional dispute for the boss' affection; he sees Rooney as his father, and Rooney sees him as his son.
This is the Hanks character's tragic flaw: he pledges to the good side of Rooney so forcefully that he is nearly immune to the bad. He's a tad bit ignorant and naïve, and even when he discovers the worst, it leaves him hurt more than betrayed. It takes a feisty confrontation with Rooney – one which Newman executes with near perfection – for him to make this realization. Branded a murderer, he replies, "There are only murderers in this room, Michael…there is only one guarantee: none of us will see heaven."
As powerful of a statement as that is, it is the father's simple response that perfects their dialogue: "Michael could." Newman and Hank's relationship is one of the two most important bonds in this film, Hanks and Hoechlin's is the other; and Hoechlin's character, in a story surrounded by seemingly reused personalities and patterns, is the outlier. Michael Jr. is pure. There is always a presence of some good-doer in these movies, but they are almost always used as testaments to the mob's power, as they are corrupted and reformed into the lifestyle – the most famous example being Michael Corleone in "The Godfather." But Michael Jr. proves to be stronger than the cliché, as the un-relinquishing motivator of his mother and brother's murder is incapable of making Jr. pull the trigger.
That characteristic leaves Sullivan content, for he, the man who named his son after himself, does not want Jr. to end up like Sr. Whereas Rooney enjoys having his boy be his right-hand man, Sullivan desperately tries to keep his kid sanitized, which sets up their great escape from Rooney's goons – the pursuit is led by a photographer hit man (Jude Law), whose pictures of his victims make up a large portion of his revenue.  In the end, the plot works out in a way that may seem too neat. That's where the tragedy platform comes back into play, and that's where some people will be turned off.
However, there are strengths that this film has that cannot be ignored: it is brilliantly acted – especially by the aging Newman – and cinematographer Conrad L. Hall's work is breathtaking – he was posthumously honored with the Academy Award. Hall creates a world of darkness, fear, and solitude in the never-ending rainfall, which later becomes the setting for the most beautiful shootout I have ever seen. The movie is directed by Sam Mendes, whose first picture, "American Beauty," is still revered nearly 20 years later, and who has made another great tale of a savior's series of self-realizations. It's funny, the protagonists in both films hate their jobs. To the same extent? Maybe, maybe not.
– by Luke Parker