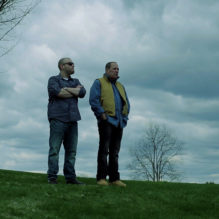 "Delusion" wraps itself up entirely into what it wants to become, but in doing so, mistakenly suffocates under the pressure of its own desires. There is a definite presence of failure here; each element of the film conflicts with the others: the performances don't match up, the dialogue is weak, and worst of all, it's not scary. There's nothing here to invest in; no characters worth pitying or loathing; no story to sink our teeth into; none of the issues are taken sincerely; and when the finale that could have revived the film arrives, it's sour and purely repulsive. The only thing becoming about "Delusion" are the visuals crafted by director Christopher Di Nunzio and cinematographer Nolan Yee. But pictures don't move mountains, ideas do. This was a letdown of an experience, made even more depressing by the blunt acting of practically everyone involved and the even weaker screenplay.
We meet the film's hero, Frank (David Graziano), three years after the mysterious death of his wife, Isabella (Carlyne Fournier). Still grief-struck, he is shocked to find a letter from her at his doorstep, but finds that it brings him more closure than panic. His nephew, Tommy, (Justin Thibault) comforts his uncle and discusses the paranormal event with him rather nonchalantly.  They both acknowledge that something very strange has happened, but neither really react to it.  The human factor is another thing this film is missing; none of the characters feel like people – what makes it even stranger is that the few actors that are able to achieve this rudimentary ability are the ones who portray spirits.
Finally obtaining a sense of resolution, Frank decides he's ready to retake control of his life, maybe even start dating again. This is when he runs into the mysterious Mary (Jami Tennille), who also has her own share of personal problems. We cannot be sure as to what extent Frank's mental impairments range, but we can infer from the pills he takes, the horrific nightmares he has, and the unexplained people he encounters that he has trouble depicting reality, a mutilation that will eventually lead to his downfall.
However, there is one person who sees the potential danger Frank is getting himself into: her name is Lavinia (Irina Peligrad), and she is a psychic. After the widower visits her in attempts to reach Isabella's spirit, she foresees death and has a vision featuring the devil. She warns him to be careful, but after a few days have passed, she finds herself still worried about the man and decides that because she has the power to help him, that she should.
From there, the film goes into a parade of creepy happenings as Frank chooses how to confront the demons in his head: either take the psychic's advice and avoid Mary, or follow the ethereal man in the deep red tie, Grayson (Kris Salvi).
The scares Di Nunzio goes for in the film are interjected mainly into Frank's dreams and fixations. But none are effective, as they are for the most part predictable, relying mainly on spine-chilling and vile graphics. In one dream, Frank is chased into a dark building by a woman with skull-drawn face paint; he collapses, and the woman pounces on top of him, proceeding to bite and rip into his neck like an animal. Do we scream? No. We cringe, the same thing we do after every so-called fright in this film.
As far as surreal cinema is concerned, "Delusion" achieves because of its visual nuance. But for the man who created the gritty crime drama, "A Life Not to Follow," just two years ago, "Delusion" is a major step back.
– by Luke Parker