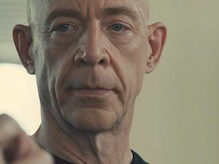 Damien Chazelle's mesmerizing short film "Whiplash" is made up of what may very well be the 18 most intense minutes of my life. A full-length feature was released a year later, and although it is certainly grades above its predecessor in practically every respect, the 2013 short is nonetheless an astounding achievement that is able to grab and hold onto our attention from beginning to end.
The experiment that would later form the basis for an instant classic initially premiered at the Sundance Film Festival in 2013, where it won the jury award for 'Best Short Film.' J.K. Simmons went on to reprise his performance as the jazz instructor from hell, Fletcher – a role that would earn him an Oscar for 'Best Supporting Actor' – and the young drummer, Andrew, is played here by Johnny Simmons, who would later be replaced by Miles Teller.
The story takes place during Andrew's first day as a member of Fletcher's elite jazz band. The newbie is the first one in the studio, the drums are wide open. However, he barely has time to turn on the snare and admire the picture of Buddy Rich when the rest of the group arrives and he must give up the kit. The others mess around for a bit, talking about girls and tuning their instruments, but when the clock hits 9 o'clock, you could hear a feather fall.
Like a machine, Fletcher arrives right at 9, and from here on out, it is all business. As he steps right into the music, Andrew, the squeaker ("isn't he cute?"), confronts the conductor's full arsenal of emotions, ranging from creepily pleasant to apocalyptic rage. During the first half of rehearsal, he slates a trombonist for not knowing whether or not he's out of tune, and quickly accepts the musician's resignation as he walks right out of the studio, nose parallel to the ground. After that little demonstration, Fletcher looks towards the group and announces, "when we get back, the squeaker's on!" A look of terror overcomes Andrew.
During the break, Fletcher meets up with the drummer with an entirely different look on his face. In fact, it is difficult to believe that this is the same man who just chopped a talented trombonist into bite size pieces.  Seeing the apparent nervousness in Andrew's eyes, the conductor warms up to him, reassuring him that he belongs in the band, and Andrew proceeds to tell the director personal information about his life and family. What Andrew doesn't realize is how quickly such an innocent conversation and innocent face can turn on him, as Fletcher will soon use that information against him in a paralyzing personal attack. What did Andrew do to deserve such a bombardment? He didn't know whether he was rushing or he was dragging.
"Whiplash" has some of the expected sloppiness of a young filmmaker. However, the quick cuts and edits obscure the low budget (the 2014 feature would go on to win the Oscar for 'Best Editing'), and Simmons' performance makes the tiny picture masterful.
I think the reason behind Simmons' scare-factor, other than the numerous obscenities and popping veins, is how relatable Chazelle's (unique-in-approach, not in-idea) story is. Whether or not we were competitive jazz musicians is not what's important. Most of us have probably had something in our lives that needed strong dedication and intense practice to perfect. So to get to where we wanted to be, we needed mentors that could push us. Although we have hopefully never had a guide as terrifying as Fletcher, we have probably all felt like Andrew at one point or another.
Chazelle's short film is an excellent piece (emphasis on piece) of filmmaking, but considering the fact that the feature is built around this collection of scenes, it is not vital to watch. However, the 2014 masterpiece is an established, inarguable necessity.
– by Luke Parker