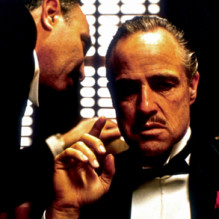 No other film in the modern era of cinema has garnered more acclaim, notoriety, and comparisons to flat out movie perfection, than the 1972 epic "The Godfather." Directed by Francis Ford Coppola (the Academy Award winner who has manned the helm for dozens of other movies, many of regal status) the movie is based on the 1969 Mario Puzo novel, spawning two sequels, and becoming the influential building block for virtually every mob movie of note thereafter, such as "Goodfellas" and Casino," and the television world with the hit "The Sopranos."
Winning three Academy Awards (and prompting Oscar ceremony boycotts from two of the stars) "The Godfather" is considered by many to be the greatest movie created by the hands of man in all of history – right behind the 1941 classic "Citizen Kane."
Taking place on three fronts; New York City, Las Vegas, and Sicily, the story follows the Corleone crime family and its reach of power across the five boroughs of New York. Beginning on the wedding day the daughter of Don Vito Corleone (Marlon Brando), the film chronicles a timeline roughly spanning a decade: 1945-1955. Assisting Vito with the operations of the family are his eldest son Sonny (James Caan) and adopted son and consigliere Tom Hagen (Robert Duvall).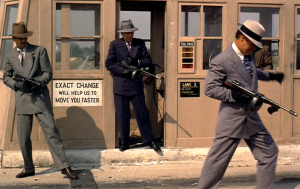 The primary catalyst of the story is the tribulations of Vito's youngest son Michael (Al Pacino) who has recently returned from fighting in World War II. Michael arrives at the wedding with his girlfriend Kay (Diane Keaton) and initially remains steadfast in his decision to not get involved with the family's illicit affairs.
A series of events unfolds after Corleone rivals the Tattaglia family enter into a business agreement with a sinister drug dealer named Virgil Sollozzo (Al Lettieri). Refusing to become involved in the drug trade, an all out gang war erupts between the rival families – a war that eventually reels Michael into the criminal underworld.
With its star packed cast, "The Godfather" has brought the trifecta in terms of movie power; great quotes, unforgettable characters, and some of the most classic scenes in the history of film.
Secondary characters like the savagely brutal and undeniable loyal Corleone family enforcer Luca Brasi (Lenny Montana – himself a former wrestler and real life mafia bodyguard) and sleazy Vegas casino owner Moe Greene (Alex Rocco) literally jump from the screen and become permanent fixtures in Hollywood lore.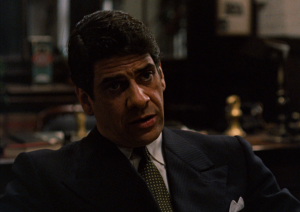 And one quick glimpse at the piercing stare of Al Lettieri will send chills down your spine and bring you the realization that the man was simply a perfect casting choice for the role of a drug dealing, snakelike mobster. (Sadly, Lettieri would pass away from a heart attack at 47, just three years after his Godfather appearance, with many more characters left for him to play.)
Hollywood veterans Marlon Brando, Robert Duvall, and James Caan had been making movies and winning awards for decades prior to "The Godfather," but the movie would launch the careers of then youngsters Al Pacino and Diane Keaton.
"The Godfather" saga would also bring about a host of memorable lines, most of which are still referenced today. The concept of making someone an offer that they can't refuse – a synonymous and more brooding form of a death threat, or reminding an associate not to "go against the family" have become second ways of speech and are repeated verbatim in numerous settings even today.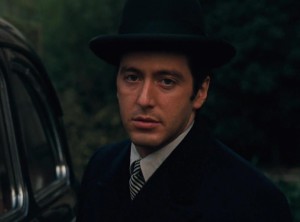 And forty-plus years later, multiple scenes from "The Godfather" are still lauded for their classic and undeniably impactful nature – a toll booth shootout, an assassination at a crowded Italian restaurant, and of course, waking up to a the bloody head of a horse in one's bed.
As a descendant of Italian-Americans, some of the stereotypical demeanor can become a bit much (I didn't grow up in the midst of organized crime though there have been more than one rumor about some of my cousins) a lot of it does bring back memories of family gatherings, weddings, and funerals I've attended throughout the years. Many Italian-Americans hold a tradition of watching "The Godfather" every Christmas due to the Christmastime setting of an early sequence.
For years I was accused of being something lesser than an actual man for not having watched "The Godfather."  After my first viewing the barrage of insults continued when I didn't revere it as the greatest movie of all time. As I watched it a second time, I can admit that it has started to grow on me. The story is solid and the characters are great. My biggest complaint is the very slow pace of most of the scenes (partially due to the era it was released) and a ridiculous running time of 175 minutes. I think the overall movie would be vastly superior if the editing trimmed off 45 minutes or so. That coupled with the masse's lust that it's the best movie of all time and I'm forced to take the grade down a notch, simply because it isn't.
Nonetheless, I understand its place in movie history, and have a new found respect for its fans, and its legacy.
by – Matt Christopher