October 16, 2013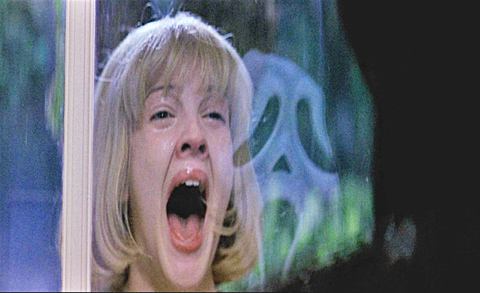 Every generation has a claim to an iconic horror movie. In the 1960s it was the original Alfred Hitchcock horror piece "Psycho" and the first real zombie movie "Night of the Living Dead." The 1970s and '80s saw the rise of the slasher movie with "Halloween," "Friday the 13th," and "Nightmare on Elm Street." The undeniable classic from my generation is the 1996 blockbuster "Scream."
To call "Scream" a financial success is a bit of an understatement. Along with raking in hundreds of millions of dollars, it was the movie to see when it came out. I ventured to the theatre with a group of friends to watch it when it was first released because seeing it in the theatre was what had to be done by everyone. Surreal that I can still remember the night we went and saw it at the now defunct Hoyt's Cinema in the Sangertown Mall, and seventeen years later it becomes my 100th review for The Movie Buff.
"Scream" would go on to revitalize the horror genre of the era, spawning a handful of unneeded sequels (following suit with other horror films) and other releases in its wake like "I know what you did last summer" and the "Scary Movie" franchise. An entire generation would have a diet of horror films once again.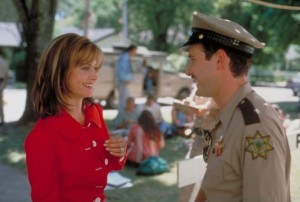 "Scream" also did what few other horror movies can do in that it created a lasting image and an iconic character that will forever remain in the archives of cinematic history. Nearly two decades after its release, the ghostface mask can still be found on costume shelves each and every Halloween season, right along with Jason's hockey mask and Freddie's razor glove. It is worn every year by trick or treators, many of which weren't even born in 1996, demonstrating a staying power that few other films possess.
Director Wes Craven (the man behind the classic "Nightmare on Elm Street" series) took themes from the annals of classic horror tales, poking fun at popular and often used clichés, and blended them with an overabundance of popular young actors, with the result being an amped up contemporary version of Elm Street.
The overall story is a bit unbelievable and the acting totes the line of mediocre but the movie delivers in the areas where it is supposed to and holds no punches, diving right into the fray with a classic opening scene. High school student Casey Becker (Drew Barrymore) is alone in her house at night when she receives a phone call from a mysterious stranger that is stalking her from outside. The caller engages Casey in benign chit chat before introducing the world to the now iconic catch phrase question "Do you like scary movies?"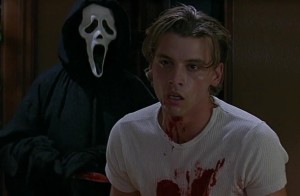 The central characters are high school students (though all the actors are clearly above high school age) with the lead being Sidney Prescott (Neve Campbell). Sidney's background is revealed to be troubling at best; exactly one year earlier, Sidney's mother was brutally murdered and Sidney's testimony sent the alleged killer Cotton Weary (Liev Schreiber) to death row. Sidney's boyfriend Billy (Skeet Ulrich) has been with Sidney for two years but is steadily growing impatient with her refusal to have sex with him. Her best friend Tatum (Rose McGowan) and her boyfriend Stu (Matthew Lillard) round out the primary group of friends, along with video store clerk and self appointed horror movie expert Randy (Jamie Kennedy) who famously runs down the rules to surviving a horror movie and advises that the police would have a better time tracking the killer if they watched "Prom Night."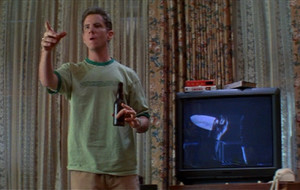 Non-student characters are Gail Weathers (Courtney Cox) a rogue reporter who wears revealing outfits more befitting at a night club than the local news, and her plump, slow-witted cameraman Kenny (W Earl Brown). They are joined by comical Deputy Sheriff Dewey Riley (David Arquette), and the schools principal (Henry Winkler).
As the madman dressed in the ghostface mask continues to terrorize the town, the ultimate whodunit unfolds, with red herrings abound as to the identity of the real killer.
"Scream" served as a mainstream introduction for actors David Arquette, Neve Campbell, Matthew Lillard, Rose McGowan, Skeet Ulrich, and Jamie Kennedy. The cast meshed perfectly with the already proven names, like Drew Barrymore, and Courtney Cox (who was just launching to stardom courtesy of the TV series Friends). And of course, everyone knows Henry Winkler from his legendary role of 'The Fonz' in Happy Days.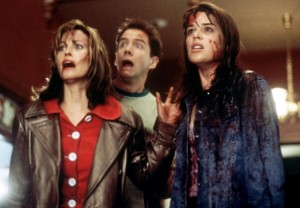 "Scream" does a magnificent job of capturing the time frame of 1996, with its hip cast, big clunky dial-up computers, corded phones, and the now practically extinct video rental stores. One comical and truly time relevant line is delivered by the town sheriff (Joseph Whipp). While questioning Billy, he asks "what are you doing with a cellular telephone son?" Showing just how far times have changed in a span that seems like the blink of an eye.
Fun on all levels, "Scream" isn't going to scare you but it is a movie everyone should own and watch once a year. It should be revered for the true horror classic that it is.
by – Matt Christopher